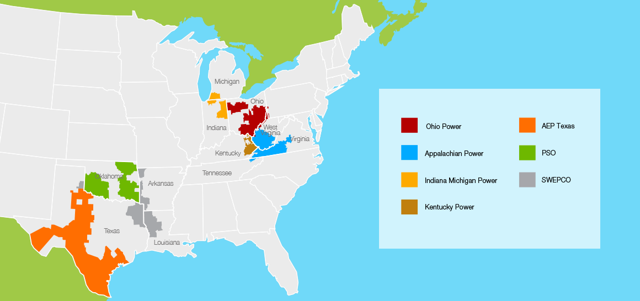 American Electric Power Company, Inc. (AEP) comprises several good mixes of geographical service areas, generation fuels, and segment results. The prices of the fuels for which it has most capacity – coal and natural gas – compete with one another and will likely remain relatively low. With its 3.3% dividend and projected earnings per share growth of 5-7%, AEP's overall annual return to investors adds up to 8-10%. Moreover, at a time of fluctuating stock prices yet decent underlying U.S. and regional economic growth — the strongest predictor of electricity demand — AEP offers welcome stability.
Brief Company Summary
AEP is headquartered in Columbus, Ohio, was founded in 1906, and currently employs more than 17,600 people full-time. This electric utility holding company generates, distributes, and sells electric power via seven regulated subsidiaries to 5.4 million customers across 200,000 square miles in eleven states, widely separated into two areas as shown below.
Source: aepnationalaccounts.com
AEP's Generation by Fuel Type
American Electric Power generates electricity using coal and lignite, natural gas, nuclear, hydroelectric, solar, wind, and other sources. Its fleet of power plants has 32,000 megawatts of capacity, including 4,300 megawatts of renewable energy. The biggest portion at 47% of its capacity is coal-fired and the second-largest at 28% is natural gas-fired. Obviously, use percentages will not line up with capacity percentages, but note that coal and nuclear are typically considered baseline units.
Source: aep.com and Starks Energy Economics, LLC
In the next ten years, AEP expects to retire coal units and add 4,450 megawatts of wind power capacity, 3,865 megawatts of solar power capacity, and 2,650 megawatts of natural gas capacity. Moreover, its intermediate term (by 2030) goal is to reduce carbon dioxide emissions 60% from the level in 2000 by 2030 and to achieve an 80% reduction by 2050.
American Electric Power's goal for its future mix of generation fuel capacity is coal, 29%; natural gas, 24%; nuclear, 7%; hydro, solar, wind, and pumped storage, 34%; and energy efficiency/demand response, 6%.
State Regulators
As a holding company for regulated utilities, American Electric Power does not have direct competitors. However, via its utilities, AEP has oversight from and reporting responsibilities to public utility commissions in every state in which it operates, that is, in Michigan, Indiana, Ohio, Kentucky, West Virginia, Virginia, Texas, Oklahoma, Louisiana, and Arkansas. In rate cases, it answers to and is subject to input from a wide variety of customer-stakeholders. The company is also subject to normal market pressures for its fuel sources and changes in demand for its electricity production.
American Electric Power's Operations and Capital Expenditures
American Electric Power owns the country's largest transmission system and 219,000 miles of distribution lines. As illustrated in the service map above, its seven regulated utilities are AEP Ohio, AEP Texas, Appalachian Power, Indiana Michigan Power, Kentucky Power, Public Service Company of Oklahoma, and Southwestern Electric Power Company (SWEPCO). Note that the southwestern companies, especially SWEPCO, serve fast-growing oil and gas production areas in south (Eagle Ford) and west (Permian) Texas.
In 2019, AEP expects to spend capital of $540 million for generation, $1.5 billion for distribution, and $3 billion for transmission. Its forecasted capital budget for 2019-2023 totals $33 billion.
Third-Quarter and Nine-Month Results, Full-Year Estimate
AEP recorded earnings per share (EPS) of $1.17 in the third quarter of 2018 and $3.17 for the first nine months of the year. Both numbers are slightly ahead of comparable 2017 results. In its third-quarter report, AEP's chairman, president, and chief executive officer Nicholas Akins said that "performance has been driven by strategic investments in our core businesses to improve service to customers, combined with very favorable weather… Cooling and heating degree days combined in 2018 are the second highest we've seen in the last 30 years." Akins also announced an expansion of discretionary spending for customer service and a dividend per share increase of $0.05 to $0.67.
For the first nine months of 2018, AEP's vertically integrated utilities delivered 90.5 billion kilowatt-hours (KWH), 2.4% more than the same period in 2017. Its transmission and distribution utilities delivered 60.4 billion KWH in the first nine months, 4.5% ahead of deliveries for the same period in 2017.
For full-year 2018, the company estimates EPS of $3.82 to $3.92. This would put AEP's price-to-earnings ratio at 20.6. The company predicts a future earnings growth rate of 5-7%. Coupled with its dividend, this yields investor returns of 8-10%. (In November, at a lower stock price, the company projected total investor returns of 9-11%.)
Segment Earnings
The company shows an increase in generally accepted accounting principles (GAAP) earnings in 2018 compared with 2017, due primarily to a $226 million increase in earnings from its vertically integrated utilities. For reference, the generation and marketing segment – less by $184 million for the first nine months of 2018 compared to 2017 – includes AEP OnSite partners, AEP Renewables, non-regulated generation in two large electric reliability regions, along with marketing, risk management and retail activities in three large electric reliability regions.
Source: AEP.com and Starks Energy Economics, LLC
Company Governance
Institutional Shareholder Services ranks American Electric Power's overall governance as a 5, with sub-scores of Audit (1), Board (3), Shareholder Rights (7), and Compensation (4).
Shorted shares are only 1.85% of floated shares. Insiders own a negligible amount of the outstanding stock.
Electricity Demand
Electricity demand ties directly to the economic health and activity of the region served. As with other utility holding companies, AEP's geographical diversification between the Ohio Valley/Appalachia and the Southwest is expected to provide some self-correcting stability so that, for instance, AEP is not completely tied to either the health of Midwestern steel mills or southwestern oil production.
In the third quarter report, Akins also noted that the strong economic indicators seen earlier in the year were giving way to tighter labor markets, higher inflation, and increased trade tensions.
American Electric Power's Financial and Stock Highlights
AEP's trailing twelve-month EPS was $3.97, giving it a price-to-earnings ratio of 20.2. Analysts' average estimated 2019 EPS is slightly higher at $4.13, resulting in a forward price-to-earnings ratio of 19.5.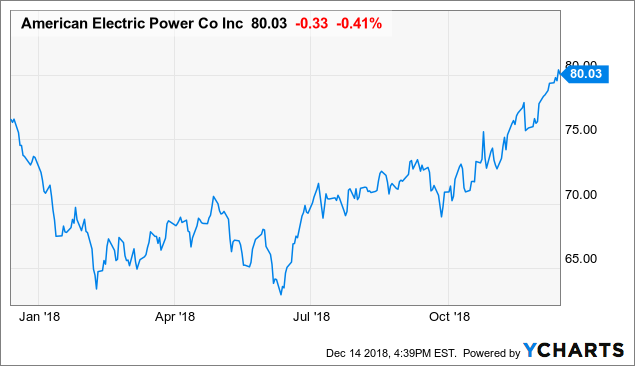 At September 30, 2018, AEP had $48.5 billion in liabilities and $67.6 billion in assets, resulting in a steep liability-to-asset ratio of 72%. Its rate base is $38 billion.
The company's market capitalization is $39.6 billion at a December 13, 2018 stock closing price of $80.36 per share.
The company's enterprise value (EV) is $63.3 billion and its EV/EBITDA ratio is 12.4, above the preferred ratio of 10 or less that suggests a discount.
AEP's 52-week price range is $62.71-$80.67 per share, so its December 13, 2018 closing price is essentially 100% of its one-year high. The company's one-year target price is $78.33/share, putting its most recent closing price above that level.
The company's dividend of $2.68/share represents a 3.3% yield to its December 13, 2018 price.
Overall, the company's mean rating from seventeen analysts is a 2.4 or between "buy" and "hold" leaning slightly toward "buy." The most recent ratings change, in September 2018, was an upgrade from "neutral" to "buy."
As of June 30, 2018, most of AEP's stock was held by institutions, some of which represent index fund investments that match the overall market. A recent summary of its institutional stockholders shows the top four holders as Vanguard with 7.5%, BlackRock with 7.1%, State Street with 4.8%, and Capital Research with 3.4%.
Notes on Valuation and Beta
Analysts calculate several estimates for AEP's beta, from 0.40-0.01 range to a three-year beta of -0.1 to as low as -0.29. What's most readily taken from this range is that the company's stock does not fluctuate in direct proportion to the overall stock market, a factor that can be useful to some investors.
The company's book value per share of $38.57, less than half of its current market price, indicates positive market sentiment.
Positive and Negative Risks
Just because AEP serves two different geographic areas does not guarantee the economies of both regions will balance one another or move in countercyclical directions to one another. They could instead reinforce one another, with both being strongly negative or strongly positive especially due to national, rather than regional, factors (like the 2018 tax cut or changes in Federal Reserve money policy).
Still, potential investors should consider regional economic growth in the eleven states shown above, state regulatory environments, and changes in bond rates as the factors most likely to affect AEP.
With a liability-to-asset ratio of 72%, AEP, like the utility sector generally, is more exposed to interest rate increases than companies in other sectors.
Recommendations for American Electric Power
With a price near its 52-week high, AEP is already an investor favorite, but I recommend it to those looking for a +3%-dividend stock, a company with geographically diversified assets from its seven regulated utilities, good growth prospects in its regions, a well-considered mix of current and future generation fuel capacity, and a focus on continuing to reduce carbon dioxide emissions. Additionally, 75% of its current generation capacity is fueled by two low-priced competitors: coal and natural gas.
Between dividends and EPS increases, the company projects annual returns of 8-10%.

While you're here, consider subscribing to Econ-Based Energy Investing, a Seeking Alpha Marketplace platform by a veteran energy investor that draws from a group of more than 400 public companies. Weekly in-depth articles (three company-specific analyses and two stock-by-stock portfolio reviews) provide you with recommendations for long energy investments. Service is discounted at 20% to all current and new subscribers. After January 15, 2019, the price will increase for subscribers joining later, but will remain the same for all who join before January 15, 2019
Disclosure: I/we have no positions in any stocks mentioned, and no plans to initiate any positions within the next 72 hours. I wrote this article myself, and it expresses my own opinions. I am not receiving compensation for it (other than from Seeking Alpha). I have no business relationship with any company whose stock is mentioned in this article.