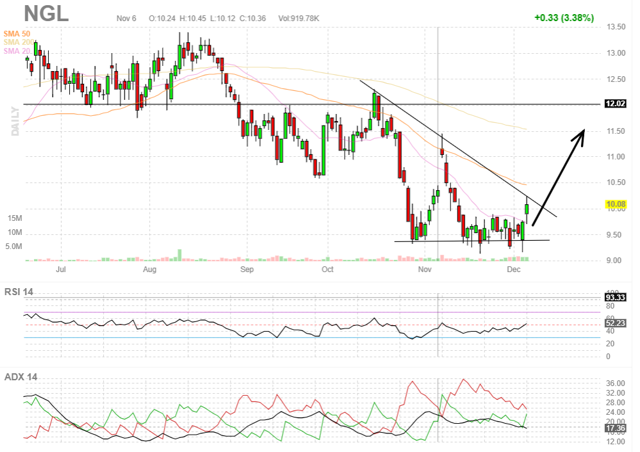 2018 YTD Chart: +38.68%
The benchmark S&P 500 index continues into negative territory for 2018 with over 5% declines this past week.
The Momentum Gauges
The Momentum Gauge signals continue to maintain higher levels of negative momentum than positive momentum since week 39 (last week of September). This has been a highly reliable predictor of breakout momentum effectiveness as you can see on the charts that I will further integrate into selection timing for 2019.
The positive momentum gauge declined further to 9 this week from a value of 16 last week. This is a continuing red warning signal that we have been seeing consistently over the last 10 weeks, continue to use caution.
The positive momentum gauge set its all time highest score of 120 back in Week 34 of 2017. The all time low for the positive momentum gauge reached 0 during the early part of Week 44 of this year.
The negative momentum score has increased again to much higher levels ending the week at 97 from 53 at the end of the prior week. A negative record high was set at 121 during the week of 43 that has changed the scales to a max of 130 now.
Last week's report: Week 49 Breakout Forecast: Short-Term Picks To Give You An Edge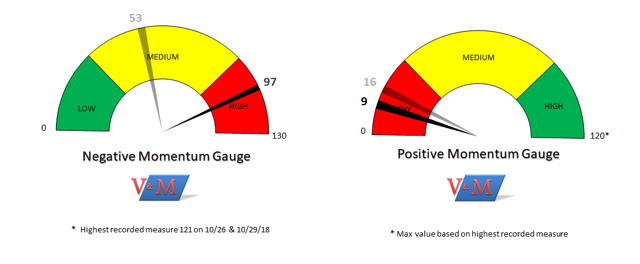 My momentum gauges are based on the count of the momentum stocks screened as either positive accelerating or negative accelerating stocks based on my research algorithm. The combination of the two different types of momentum categories screened by segments 2 and 6 of my algorithm may help validate the quality of the overall market momentum strength.
Total Return Chart: +79.87%
The Total Return Chart reflects total return of all stocks in the weekly portfolio.
Notice how the Week 39 Momentum Gauge negative signal continuing since Week 39 has preceded declines in momentum selections through last week. We are still looking for a favorable positive momentum signal as we approach the end of the year.
Hedge Activity
While the Momentum Gauge conditions remain highly negative and signal reduction in momentum trading, a majority of my activity continues in leveraged market hedge ETFs like TVIX, SQQQ, and SDOW. The ETFs most active for swing trading a long with members in the live chat area include LABU, SOXL, FNGU and their corresponding inverse funds LABD, SOXS, FNGD.
As we adjust momentum trading for the greatest profitability, please see my most recent VIX trading article:
Profiting With Volatility Gains as the Fed Drains
These VIX trading patterns may continue to give us more reliable signals to trade for profitability in a deteriorating market.
Breakout Forecast Selections for Week 50:
Last week was a shortened week that saw (NBEV) gain over +14% and (AMSC) +12.60% in less than two days. This week I have selected 8 breakout stocks from the following sectors: 4 Healthcare, 2 Basic Materials, 1 Services, and 1 Technology. Several selections have been on the breakout list earlier this year.
The sample selections of positive momentum stocks released for this week include:
AC Immune SA (ACIU) – Healthcare / Biotechnology
NGL Energy Partners (NGL) – Basic Materials / Oil & Gas Refining
Caution: These stocks are not necessarily recommended for long term buy/hold unless you are comfortable with very large price swings. These are the most volatile selections I offer from among all the different Value & Momentum portfolios.
1. Strong momentum events usually last from one to three weeks and may encounter some substantial decline before returning again to positive gains.
2. Proposed entry points for each of the selected stocks are as close to the highlighted prices in yellow on the charts at market open.
3. Buying Breakout Stocks during Red conditions measured on the Momentum Gauges greatly increases risk of loss. Red conditions are the best times to hedge exposure.
Breakout Stock Selections for Week 50
AC Immune SA (ACIU) – Healthcare / Biotechnology



Price Target: 14.00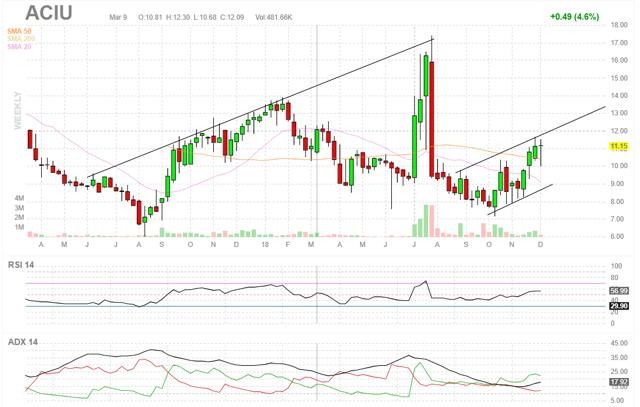 AC Immune SA, a clinical stage biopharmaceutical company, discovers, designs, and develops therapeutic and diagnostic products for prevention, diagnosis, and treatment of neurodegenerative diseases associated with protein misfolding. Its SupraAntigen and Morphomer platforms are designed to generate vaccines, antibodies, and small molecules, which selectively interact with misfolded proteins that are common in a range of neurodegenerative diseases.
(Stockcharts) The voluminous technical point & figure chart above for ACIU shows a bullish pattern of low pole reversal that may further confirm the selection. While this is not the selection basis of the Breakout Momentum algorithm it may further validate the reliability of the model.
NGL Energy Partners (NGL) – Basic Materials / Oil & Gas Refining



Price Target: 12.00
NGL Energy Partners LP, together with its subsidiaries, engages in the crude oil logistics, water solutions, liquids, retail propane, and refined products and renewables businesses. The Crude Oil Logistics segment purchases crude oil from producers and transports it to refineries for resale at pipeline injection stations, storage terminals, barge loading facilities, rail facilities, refineries, and other trade hubs; and provides storage, terminaling, trucking, marine, and pipeline transportation services.
(Stockcharts)The voluminous technical point & figure chart above for NGL shows a bullish pattern of Triple Top Breakout that may further confirm the selection. While this is not the selection basis of the Breakout Momentum algorithm it may further validate the reliability of the model.
Planned Portfolio Report Schedule*
This report marks the end of the 50 weeks of Breakout Portfolio selections and takes us to the 14th of December. I plan to publish a review of the year's performance and detailed analysis of the selection model's effectiveness for adjustments into 2019.
An important goal will be to analyze and integrate the Momentum Gauge scores into the selection model and compare returns across the Green, Yellow, and Red conditions throughout the past year. This approach I believe will further enhance returns from the Breakout Stocks and Hedge selection timing.Now with over 400 research and portfolio articles published a new 2019 Portfolio Report Schedule will be released shortly for readers.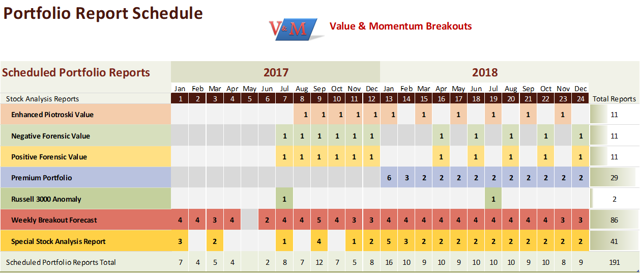 * subject to changes as life unfolds
Click the "Follow" button at the top of the page to enjoy free updates and select real-time alerts if you want timely updates on the latest stocks and portfolios I offer that are outperforming the S&P 500 in each of their respective time periods.
I think these breakout stocks will serve you well in Week 50 and beyond. I hope you all do well with these stocks and always diversify to minimize some of the market risks.
All the very best and have a great week of trading!
JD Henning, PhD, MBA, CFE, CAMS
To subscribe to Value and Momentum Breakouts, click on the link here.
Disclosure: I/we have no positions in any stocks mentioned, but may initiate a long position in NGL over the next 72 hours.
I wrote this article myself, and it expresses my own opinions. I am not receiving compensation for it (other than from Seeking Alpha). I have no business relationship with any company whose stock is mentioned in this article.
Editor's Note: This article covers one or more microcap stocks. Please be aware of the risks associated with these stocks.