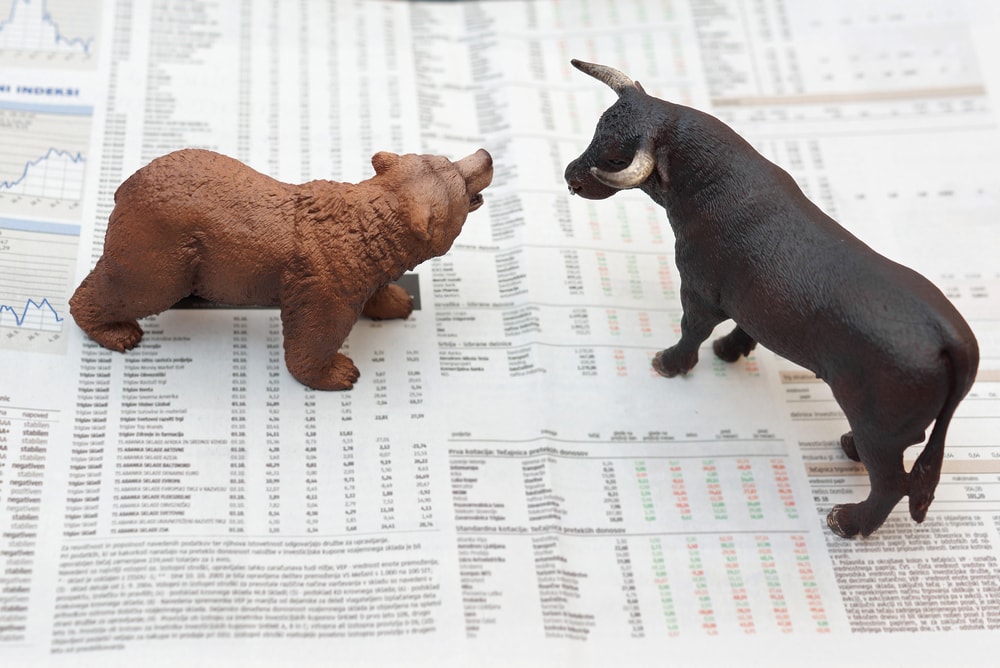 There is a large focus on the current quarter for Tesla (NASDAQ:TSLA) specifically around Model 3 deliveries and gross margin. I believe this is masking a larger looming problem for Tesla's aging cash cows, the Model S and Model X, which currently produce the majority of automotive margin. I believe both volumes and selling prices on Model S/X will come under significant pressure in 2019, adding further financial strain on Tesla.
2019 Domestic Model S/X Sales Impact
Tesla has guided to 100,000 2018 deliveries worldwide for Model S and X in its latest 10-K. Based on current sales trends, Tesla is projected to sell roughly half of those, 50,000, in the US. In doing so, they benefit from a $7500/vehicle or $375 million overall subsidy from the United States government. This subsidy is set to reduce to $3750 in the first half of 2019, drop again to $1875 in the second half before vanishing entirely in 2020.
| | | | | | | |
| --- | --- | --- | --- | --- | --- | --- |
| | Q1 US | Q1 Total | US % | Q2 US | Q2 Total | US % |
| Model S | 5300 | 11730 | 45.2% | 5790 | 10930 | 53.0% |
| Model X | 4500 | 10070 | 44.7% | 5025 | 11370 | 44.2% |
Sources: InsideEVs Plugin Scorecard, Tesla Q1 and Q2 Production and Deliveries
Tesla is already running short of its 100,000 worldwide goal with only 44,000 cars delivered in the first half of 2018. The impact of increased prices in China as a result of the escalating trade dispute adds further pressure to this goal in 2018 before federal subsidies are reduced in 2019.
The $7500 federal tax credit represents a little under 10% of the base price of a Model S/X, but carries a large psychological benefit of "free money" as well as an outsized impact on lease payments.
How much of an impact do subsidies have? To see a dramatic example, we can view Hong Kong, which offered a massive EV credit that reduced the price of Model S by almost 39% (from HK$925,000/US$118,400 to HK$570,000/US$72,900.) Once this credit was eliminated, Tesla sales in Hong Kong were reduced to almost zero.
To see an example of the impact of removing a smaller subsidy, we can observe what happened in Georgia following their repeal of their state EV credit. Until July of 2015, Georgia provided a generous $5,000 tax credit for electric car purchases. It was repealed and a $200 registration fee took its place.
Afterwards, EV sales in Georgia fell over 80 percent. While this large of an impact is not expected for Model S/X as the subsidy represents a smaller percentage of the purchase price, this shows how large of an impact these credits have in individual purchasing decisions.
2019 Domestic Model S/X Leasing Impact
The treatment of the $7500 federal tax credit is different when it comes to leased vehicles. When a Tesla is leased, the leasor receives the credit, which is passed to the leasee in the form of lower payments. This creates an outsized impact because it lowers the capitalized cost significantly.
Tesla lease prices have already been rising because of higher interest rates and higher base prices. In 2016, Tesla announced 2 year leases for the entry level Model S and Model X, with deals on Model S60 starting at $593/month (with $7,288 down) and Model X60D starting from $730/month (with $7,425 down.)
Using the same money down, the payment on the least expensive Model S75 is up to $918/month and up to $1023/month for the Model X75. (Note: I am comparing a 2 year lease in 2016 versus a 3 year lease now because the 2 year leases are more expensive. I wanted to present the least costly options for a new prospective customer.)
In 2019, lease prices will increase 13% for the Model S and 11% for the Model X, then rise another 6.5% and 5.5% in each of the next 6 month periods. You can see this impact using the Tesla Design Studio by reducing the down payment by $3750.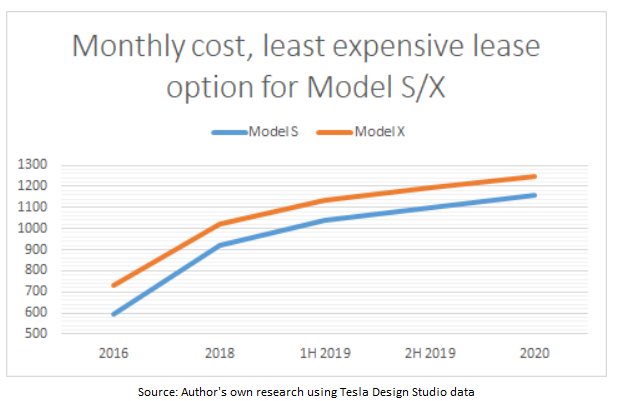 By 2020, the cost to lease a base Model S will increase 26% and a base Model X will increase 22%. The numbers could be even higher if interest rates continue to rise or residual values fall.
Netherlands
In 2018, Netherlands is Tesla's fourth largest market (second largest in Europe) accounting for 21% of European sales. Tesla sales in the Netherlands have increased 214% (from 1308 to 2808 units) in the first half of 2018. This growth has offset losses in other European markets and without it Tesla sales in Europe would by down year over year. What is driving the surge, and what happens in 2019?
In the Netherlands most cars, especially in the luxury segment, are made available as a "benefit in kind" by employers. The "BiK" tax liability is 22% of the price as additional taxable income, most often in the 52% tax bracket. Electric Vehicles currently have an exemption and are only charged with 4% additional income. Starting in 2019, the first €50,000 will be charged with 4% and the rest with 22%. For a Tesla with a price of €100,000 this is an extra €9,000 in income and an extra €4,680 (52%) in tax.
How big of an impact will this have? We can look to what happened to Plug In Electric Hybrids (PHEV) for clues. (PHEV) vehicles also used to pay a 4% income tax, but this was steadily increased over the past few years to
7-14% range in 2015

15-21% range in 2016

22% in 2017 (i.e. the same rate as

conventional cars)
What happened to sales?
PHEV sales fell from a record-high 10% of total car

sales in 2015

Fell another 50% (to 5% overall) in 2016

Collapsed an astounding 93.6% in 2017
Source: Plug-in electric vehicles in the Netherlands
In the first half of 2018, Netherlands represented 6.4% of all Model S and X sold. I believe this will fall to 1-2% range in 2019.
Anticipated Tesla responses
Tesla won't sit idle and let domestic S/X sales volumes fall, as manufacturers have minimum volume commitments to their suppliers. What options does Tesla have?
The most straight forward option would be to decrease the domestic price by the amount of the lost credit. This would eliminate the impact to customers. What would this do to margins? Tesla does not release average selling prices for the Model S and X, but most analyst models peg the average price at around $100,000 with a gross margin around 25%. If Tesla decreases prices by the same amount as the lost credit, they would see gross margin fall to 21% in Q1-19 (as the tax credit decreases by $3750), 19% in Q3-19 (when the credit decreases by another $1875) and 17% in Q1-20 (when it loses the final $1875) on US Model S/X sales. Outright price reductions could be perceived poorly and I believe Tesla will wait longer to do this.
What else could Tesla do? Similar to how Tesla pulled demand forward by announcing an end to free Supercharging before extending it again, again, and again, I believe Tesla could entice buyers early in 2019 by including Autopilot at no additional charge for a "limited time", with the limited time becoming extended indefinitely. This would result in similar margin deterioration, but could be spun better than outright price cuts.
Conclusion
Based on the pricing losses from the reduction and elimination of the US federal tax credits and Netherlands sales falling 80-90% from their current levels, the overall gross income provided by Model S/X could fall over 22% by 2020. China tariffs and increased competition from Jaguar, Mercedes, and Porsche (which will all likely have full access to the $7500 US Federal tax credit) provide significant downside to this number.
Tesla has had a strong run since late 2016, but current investors should be extremely cautious heading into 2019 and consider taking profits now. Tesla's financials continue to deteriorate at an alarming pace and business conditions are set to become considerably worse in 2019.
Disclosure: I am/we are short TSLA.
I wrote this article myself, and it expresses my own opinions. I am not receiving compensation for it (other than from Seeking Alpha). I have no business relationship with any company whose stock is mentioned in this article.
Additional disclosure: We are short via long dated put options