Source: The Clorox Company
The Clorox Company (CLX) is much more then its namesake. With a growing portfolio of consumer recognized brands in its portfolio, it makes for a stable long term investment. With 41 years of dividend raises, Clorox has rewarded investors with not only strong growth, but a steadily rising share of the profits.
Why I Sold Clorox
I recently had the chance to buy Clorox, and I did. Where I made my mistake was selling it. It may not be a mistake as only time will tell but, I certainly wish I still had it.
I entered my Clorox position at around $117 a share and was given a yield on cost of 3.28%. This was great, and after many years of wanting this company in my portfolio, I finally got some.
I was interested when the yield first crossed 3% and waited patiently as I believed it was still to pricey for a consumer goods company.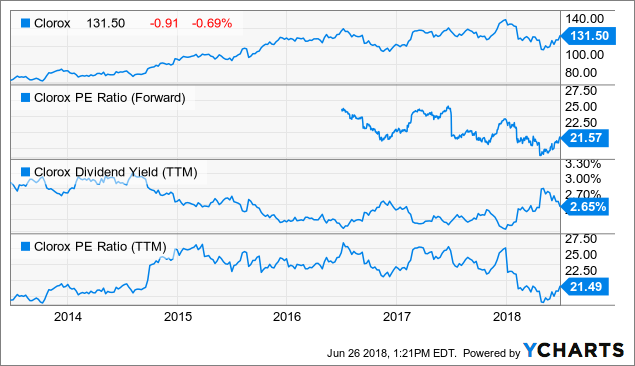 As we can see, my purchase price of $117 was ideal. For the past few years, Clorox has had a yield of under 2.75% and was only above 3% around 5 years ago, making this an opportune time to get a historically high yield from Clorox. Also, it has traded at what I would consider a high multiple in the mid 20's. Many names, growing much faster, had the same p/e. I believe a stable grower like CLX should be purchased when the p/e is less then 20.
So as it goes within less then a month the stock rose right back up.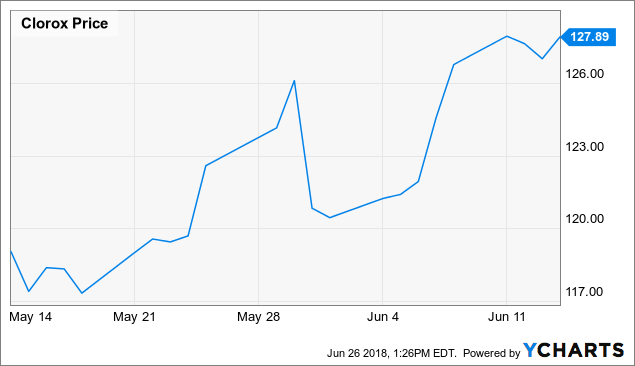 At this point, I had close to a 9% gain in a matter of weeks. While it may seem small, annualized this is a 108% return. I could not help myself and decided to sell. While it wasn't just for the gain, it was for a few reasons. I believe that once again it is ahead of itself for this type of market. We are seeing growth everywhere, and there isn't a reason that with rising interest rates a consumer goods stock should have a yield less then 3%. I also don't believe it should trade at a forward multiple of 21x earnings unless it was going to experience double digit growth.
Below we see what Clorox recently announced in their latest earnings release.
Volume grew 3% during the quarter.

Gross margin rate down 120 bps to 42.8%, driven primarily by highe r commodity and logistics costs.

Segment revenue: Cleaning: $513M (+3%), Household: $493M (+1%), Lifestyle: $252M (+2%), International: $259M (+4%).

FY2018 Guidance: Sales: ~+3%; Gross margin rate: -100 bps to 150 bps; Diluted EPS: $6.15 to $6.30; Tax rate: 22% to 23%.
Growth of 3% is nice, especially at a time when other companies in the industry are facing no growth or negative growth. But, I don't believe a company growing 3% a year, should have the multiple a tech company with double digit growth otherwise would.
Why The Right Price Would Make Me Buy
While in the long term, I would probably do well holding on to my shares I purchased at $117, I decided to wait for the chance to buy them again. I believe as commodity costs rise and other input costs do as well, Clorox may come down to this range once again. Anything under $120 would lead to a 3.2% yield on the current annual dividend and would allow for the chance to buy a small large cap consumer products company. For now, I decided to use the funds to invest in companies with either tailwinds instead of headwinds or companies with a higher yield.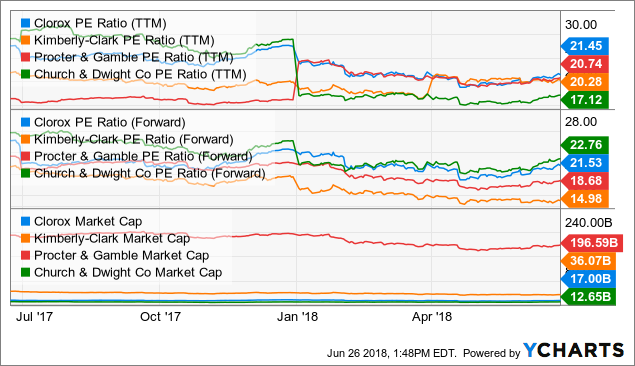 While Clorox is only larger then Church and Dwight (CHD), it has the highest multiple for the TTM. Going forward it has the second highest p/e, only slightly behind CHD, who is expecting 3% organic sales growth, and 12% over all sales growth.
Lastly, we look at yield.
| | |
| --- | --- |
| Symbol | Yield |
| CLX | $3.84/2.90% |
| CHD | $0.87/1.69% |
| KMB | $4.00/3.85% |
| PG | $2.87/3.69% |
We see that Clorox has the second lowest yield in its peer group. Making the others more attractive for those seeking more immediate income ROI.
While I believe Clorox will continue to make great acquisitions that will help improve its growth profile, unless it has a large enough effect to increase top line revenue growth by 5%, my feelings won't change. Recently, Clorox closed on its purchase of Nutranext (more details can be found here). Clorox paid $700 million or about 3.5 times sales of $200 million. With this deal, earnings are going to be diluted by a few cents in 2018 and 2019. It begins to become accretive in 2020. The $200 million in sales is not enough to move the needle in any major way, but is a nice addition to the portfolio. I could not find sales data for growth or EBITDA in regards to Nutranext, so it is hard to say what it may truly do for Clorox's growth going forward. Clorox did however mention strong margins in the brand. This is good as it differentiates the rest of their product line from low cost competition. It allows for them to improve overall profitability, especially once they leverage their distribution network.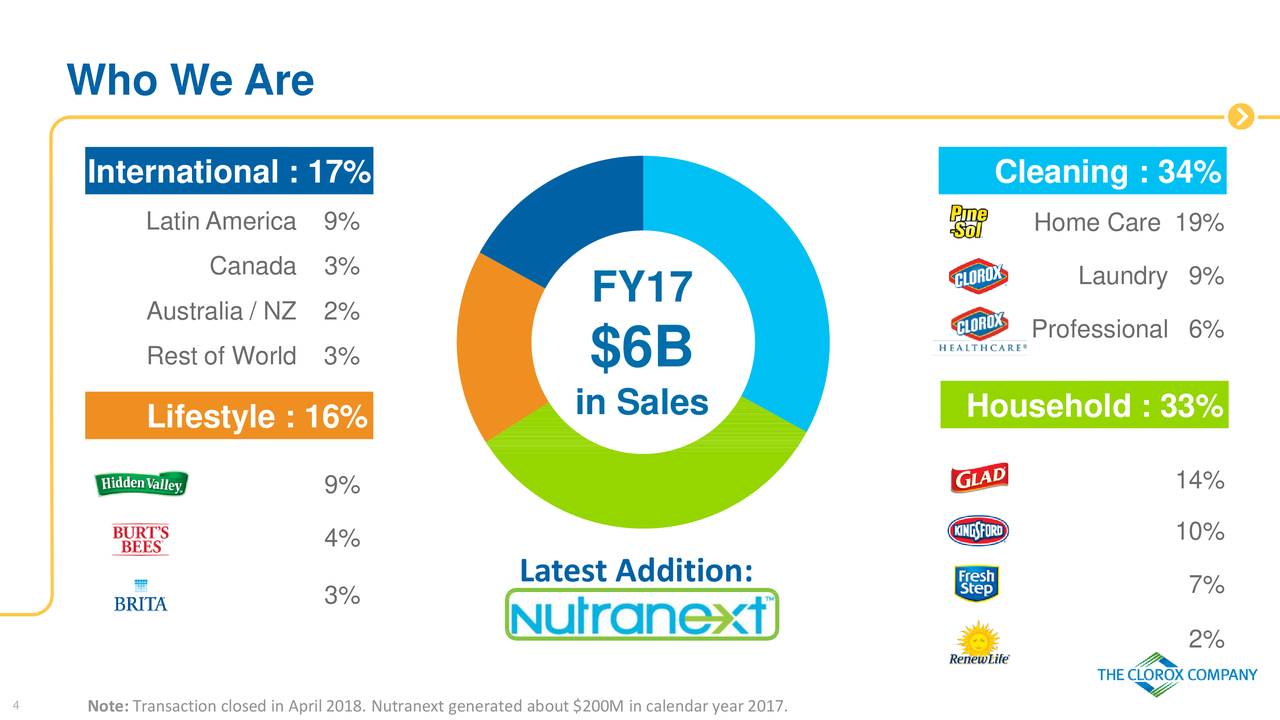 Source: Clorox Investor Presentation
Clorox is still a small company when comparing sales to its name brands. The company is fairly recession-resistant due to the need for garbage bags, laundry detergent, and home care still being important to people even when times are tough. What I really like about its future growth strategy is the desire to continue to purchase strong brand names, with low distribution scale. This is important, as I like to see them leverage their existing relationships with grocery stores, wholesale clubs, and more to cross sell products. For example, a camping store might have carried Kingsford coal, but, when they acquired Burt's Bees, they could offer their chapstick and other natural care items to those living the outdoor lifestyle.
Additionally, I believe Clorox might start to look for an international acquisition that will allow it to leverage distribution overseas of its products at home. This would be a fast track to expand international sales. While competitors like Procter and Gamble (PG) are getting about 45% of sales overseas, Clorox is getting only 17%. Currently, this is advantageous during talks of trade war, but when that ends it would be much more helpful to see an international expansion plan under way.
Lastly, Clorox has been learning to license its powerful Clorox brand to other industries. I know from my experience, I have begun to see Clorox pool care products. I know these are made from a manufacturer who just happens to license the name from Clorox. This could help establish brand name recognition, but it could also hurt if the products don't meet the quality standard needed. Maybe if Clorox sees success in the category, they could look to enter it again for additional sales avenues.
Buyback
Clorox recently announced a sizeable buyback ($2B) given the overall market cap of the company.
"The company is initiating this stock repurchase program, which demonstrates our commitment to driving value for our stockholders while maintaining a strong balance sheet," said Chairman and CEO Benno Dorer. "Importantly, the program reflects our confidence in our 2020 Strategy and our continued ability to generate strong cash flows."
There is no end date on this stock buyback but $2 billion worth of shares equates to about 12% of the company at today's valuations. Clorox is clearly confident in its ability to generate strong enough cash flows to reduce shares outstanding while sustaining growth.
Conclusion
If Clorox heads back below $120, I will reopen a position. I would presume if trade war fears end, and there is a resolution, this may happen. We could see all the growth stocks and industrial stocks take back the investment dollars that have recently found their way into Clorox. I like the market cap size of Clorox, as I believe it leaves it available as a target for a larger company, but this also means it has more room to grow. Clorox has been a serial acquirer and I believe they will continue to do so, in which case, my price targets may change. However, this is a good long term holding for any portfolio and next time around, I most likely will not sell in such a short time frame.
Disclosure: I/we have no positions in any stocks mentioned, and no plans to initiate any positions within the next 72 hours.
I wrote this article myself, and it expresses my own opinions. I am not receiving compensation for it (other than from Seeking Alpha). I have no business relationship with any company whose stock is mentioned in this article.