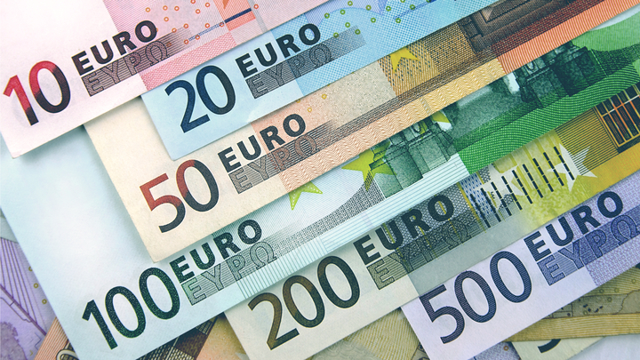 Image Source
In the early parts of this year, a great deal of attention was placed on the stock market at the expense of other asset classes. There were many reasons for this which could be discussed at long length. But we can point to the erratic activity in the Dow Jones Industrial Average as the central culprit in what has turned out to be a bad movie for those that are long stock markets at the wrong levels. Now that most of this volatility has subsided, the currency market is starting to come back to the forefront in its debates over potential euro weakness and U.S. dollar strength. This is even more true now that the latest news out of eurozone suggests a 'Brexit-like' event could take place in Italy. Additionally, major reversals in analyst expectations for the shared currency do not bode well for euro-denominated assets for the remainder of 2018. For these reasons, we are short the PowerShares CurrencyShares Euro Trust ETF (NYSEARCA:FXE) – and we will use this stance to inform our outlook for possible entries in European stocks in the months ahead.
FXE Price Chart: CNN Money
On a YTD basis, we can see that FXE has posted somewhat subdued losses of 2%. This might not sound like much of a "collapse" for many of the traders that are actively navigating these markets. But when we look at the market activity in the ETF over the last 10 years, the picture is much more stark. Most of the damage was done in 2014 but there is still reason to believe that the market has further to travel in the bearish trend directions.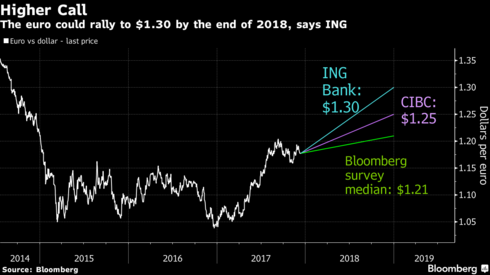 Analyst Surveys: Bloomberg
Part of the problem is the fact that there is still immense repositioning being seen in euro-denominated assets. In the chart above, we can see that the foreign exchange analyst community was incredibly wrong in its initial price forecasts for the euro. ING was the worst in this group, with the suggestion that the EUR/USD would travel to 1.30 by the end of this year. CIBC did not fare much better with its forecast of 1.25. The median numbers were still elevated at 1.21 – and it is clear at this stage that there is essentially a mad rush for the exits as there is very little reason to believe that any of these expectations will turn out to be even remotely accurate. We are now trading in the mid-1.17s for the EUR/USD and all of the momentum is obviously focused on the bearish direction for FXE.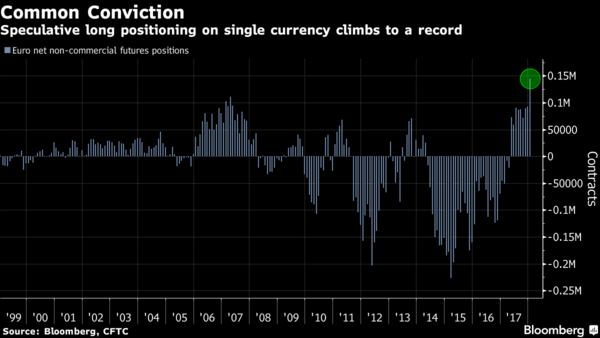 Speculative Positioning: Bloomberg/CFTC
Even more troubling is that it looks as though the market-at-large was actually acting on these absurd forecasts. Speculative long positioning in both the euro and in FXE rose to a record in the early parts of this year – and these are all trade that will be forced to unwind if the current declines continue. We are expecting a "snowballing" effect to occur here, as the exiting of long positions drives down FXE even further.
Certainly, the latest news out of Italy does not help as there are substantial events here which indicate the possibility of another Brexit-like event for the region. It seems fair to say that these are at least discussions that will not be going away any time soon. The eurozone is highly disjointed. With growth numbers sluggish, it makes sense that there would be some economic discontent present throughout the region. Any indicator which suggests another country exit from the monetary union would almost certainly generate significant selling pressure in FXE – and we will maintain a short position in the ETF until we see better follow-through in this current euro collapse.
FXE Chart Analysis: Dividend-Investments.com
Fundamentally, the market was far too bullish on the euro – and there are many investors that will be forced to pay for those decisions. These transactional flows have contributed heavily to the broader bearish trends in FXE and this should continue with further capitulation. For FXE, prior support at 120 has now become resistance and indicator readings in the RSI are only at mid-levels. This is not common, given the extent of the selling pressure we have seen after the last few weeks but it does suggest that this story is not over yet – and we are selling the ETF at current levels. But even without a specific trade idea related to FXE, this is important information for investors considering European stocks as it suggests sluggishness in regional equities for the remainder of this year.
What is your position on FXE? We look forward to reading your comments. Stay tuned to Dividend Investors and receive our next alerts by clicking the "Follow" button at the top of the page.
Disclosure: I am/we are short FXE.
I wrote this article myself, and it expresses my own opinions. I am not receiving compensation for it (other than from Seeking Alpha). I have no business relationship with any company whose stock is mentioned in this article.